Managing Multiple Locations with iAM Compliant
One of the questions that we get asked most often here at iAM HQ is "does it work if I have more than one premises to manage?". In short, yes – absolutely! We know that it's a tough job to track what's going on with your business when you're split across multiple locations so we've built in key reporting features so you can keep up to date with how compliant your premises are with a quick glance when you're busy or a deeper look when you've got the time.
When time is really pressured, check out your dashboard to see a really quick and simple picture of what's happening across your organisation. You can see a live update of your organisation's compliance with the total number of open one off jobs and total number of overdue tasks. Just click onto them to pull up the list.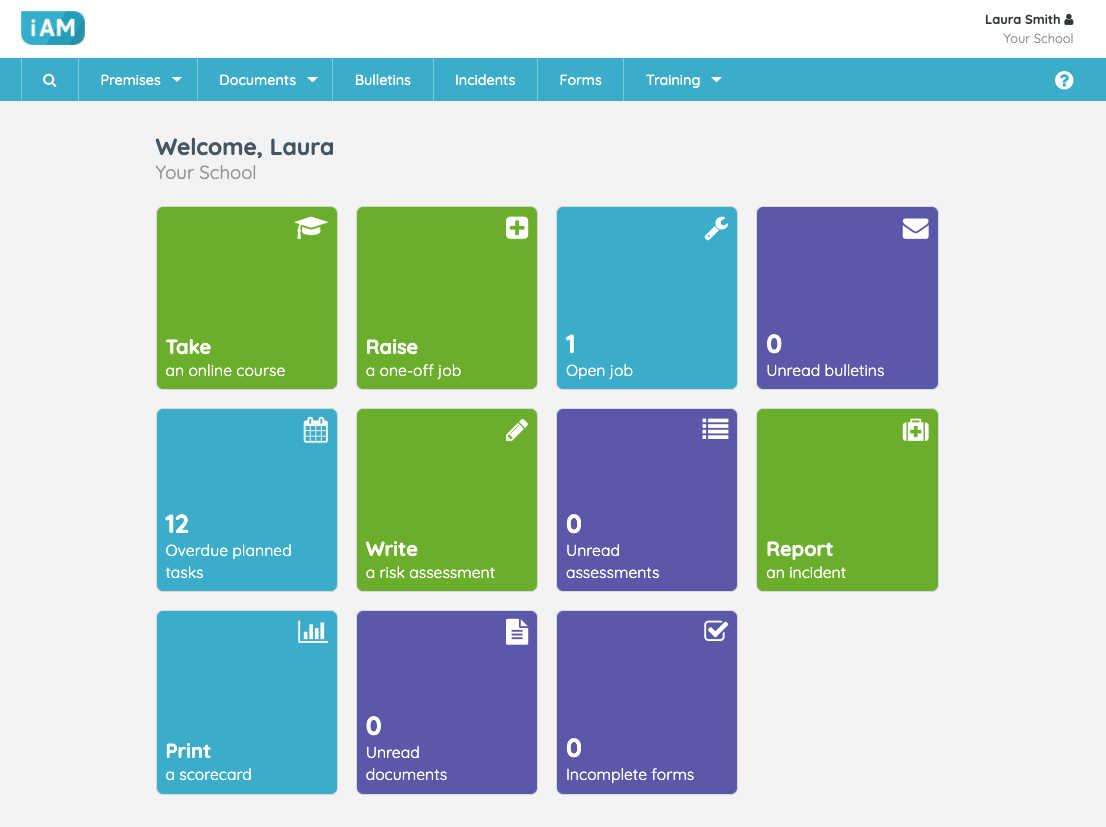 To look at a more comparative representation of your locations, go to the Compliance Overview. Here you will be able to see the compliance scores of all of your locations. Select a period of time that you would like the report to be generated for and then you are able to compare how your locations have performed over that period. For each location, we show you the number of maintenance tasks which are currently overdue and the number which were completed late. You are also able to see the number of one off jobs which are currently open and awaiting completion, as well as the number of these which are overdue, and the number of one off jobs that were completed past their due date.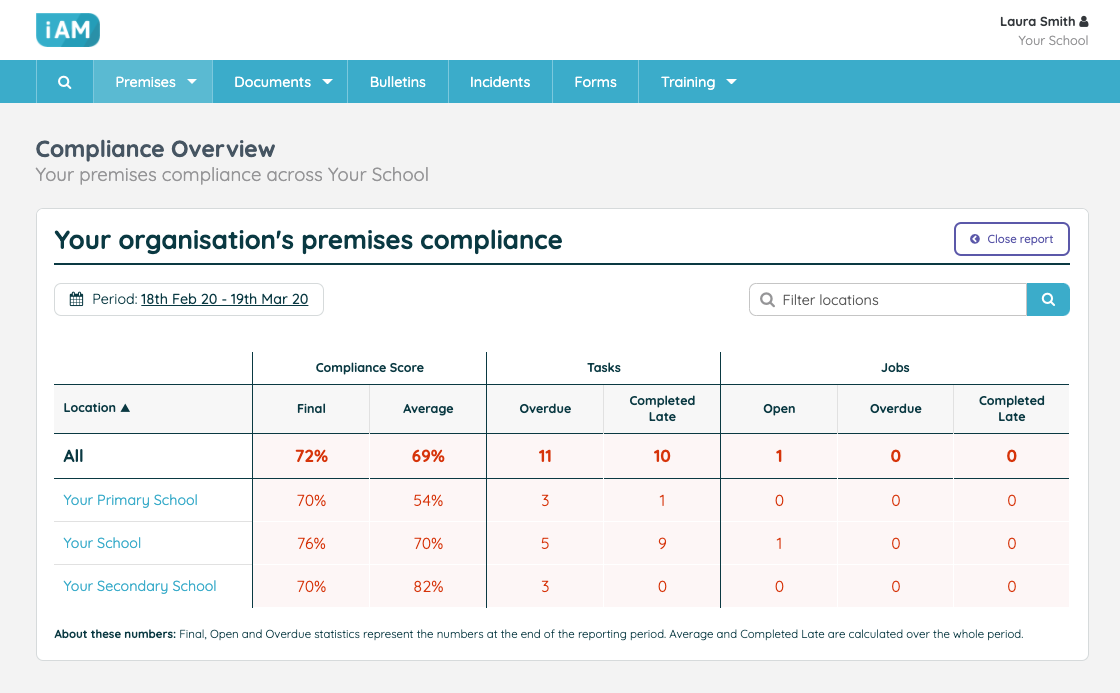 Still want a more detailed view? Check out our newest report, the Critical Compliance Task report. This live report shows you the dates that a particular set of tasks will be due. The default setting is to show the six most universally important tasks, but this report is fully customisable so that you can check in on any tasks that you would like to. You can choose any task which is connected to your organisation's account, whether that's one of our pre-defined tasks or a task which you have customised for your organisation's needs. We've designed this report in line with feedback from our users on what they'd like to know about what's going on 'at ground level' in their premises. You can easily see if a task is overdue, if an appointment has been lined up with a contractor, and if the task frequency has been changed from what we recommend. You will also be able to see if a one off job has been raised in connection with that task. Furthermore, we've also made it easy to print out this report should you need to.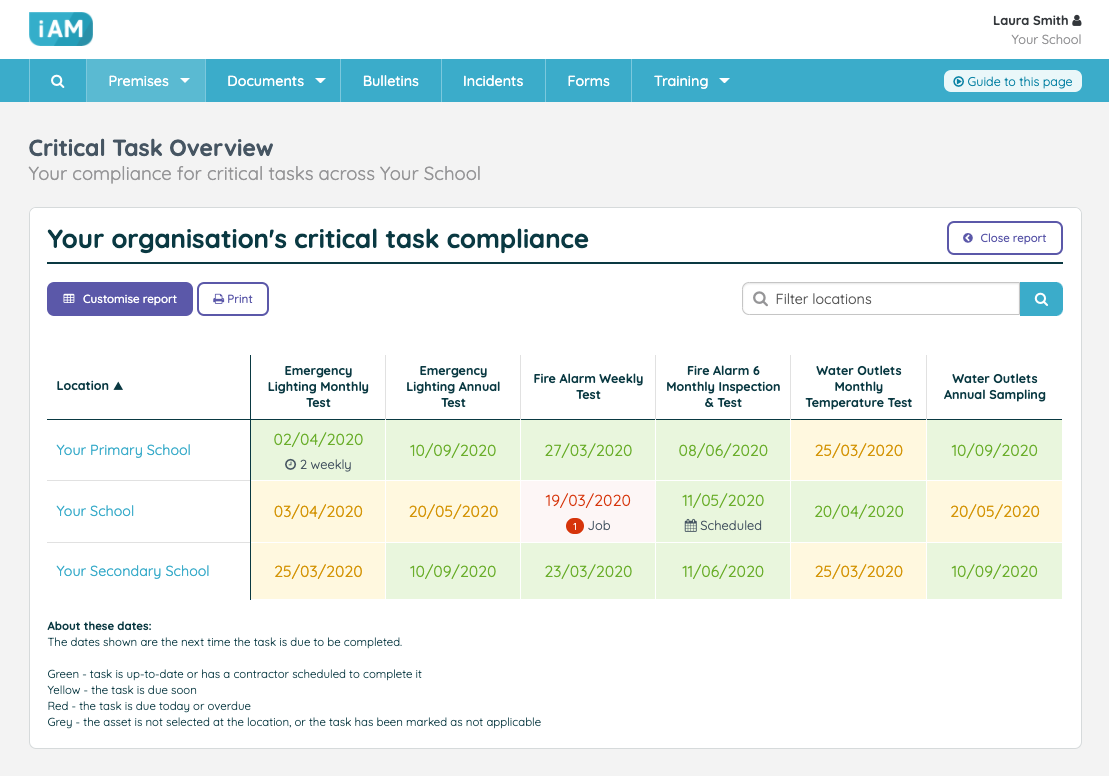 If you've got the time to really delve into reporting at your locations then take a look at the health scorecard for the location you're interested in. This is our OG reporting method, which will give you a two page summary of the compliance record for your chosen location. This report is ideal for demonstrating that you are meeting your statutory compliance obligations and can be generated from any date within the last three months to the day you generate the report. We have formatted this as a PDF download so it's easy for you to print and use as a hand out in any premises or compliance meetings.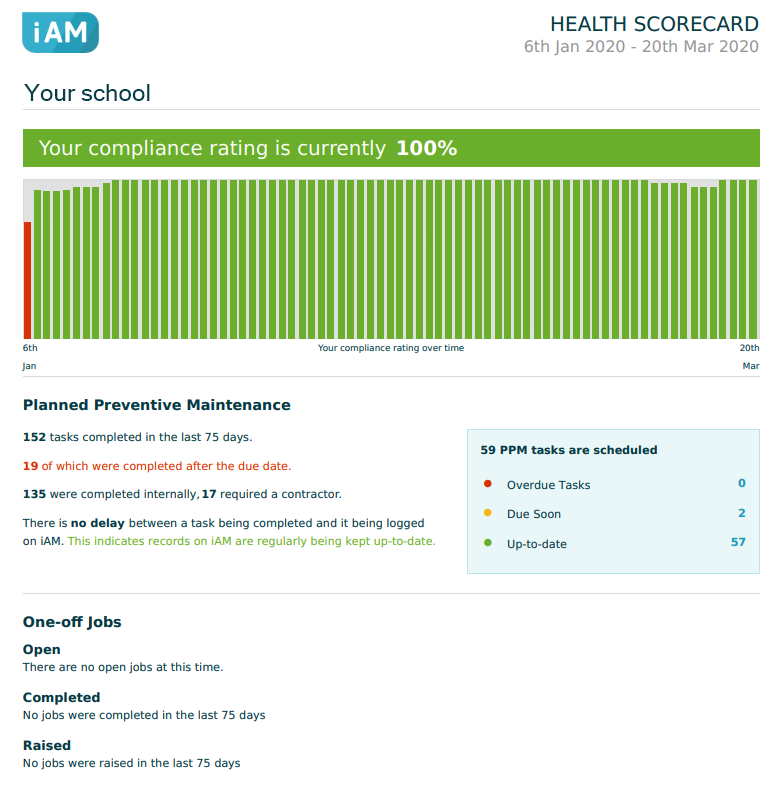 All of our standard plans are based on one location, so if you'd like to upgrade your iAM Compliant subscription to increase the number of locations that you can add, get in touch with us today at support@iamcompliant.com and we'd be happy to create a bespoke plan which suits your requirements.