Making the Most of Your iAM Compliant Subscription
Did you know that K-Pop songs use styles from across multiple music genres to maximise their appeal? A little pop, a little rap, a little electronic dance, all seamlessly blended together in a song to make a fuller sound. A subscription to iAM Compliant is a little like that; we've got something to appeal to all of your safety management needs. We've taken all the key elements of maintaining a compliant workplace and seamlessly blended them into one piece of software. With so much on offer however, you might feel a little unsure about where to start, but don't worry we've got a quick guide to help you out.
The Planned Maintenance page in the Premises Compliance area is the best place to start your iAM journey. This is where you can track all of your premises' compliance and maintenance tasks, from fire alarm testing to water outlet flushing. Just tell us what assets you have in your premises and we will automatically set up a schedule of their related tasks for you. Once your tasks are all lined up, simply add in the last time that you completed the tasks (but don't worry, we can provide estimates if you're not sure or can't remember). We'll tell you what needs to be done, when it should be done, and how it should be done with how-to guidelines written for every task in our system. As you start to complete tasks, your real time compliance score will be updated so you can track exactly how well you're doing.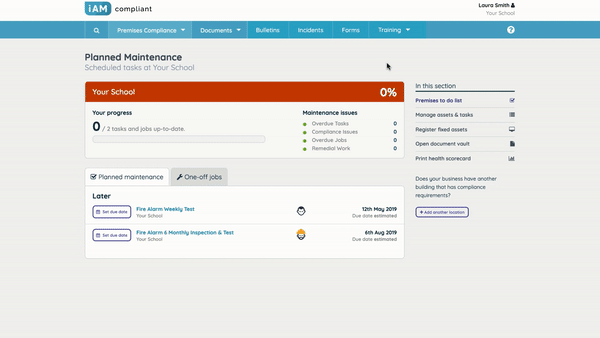 Paperwork is part and parcel of running an organisation, there's no getting away from it, but it doesn't have to be painful. Use the documents area to take the headache out of keeping track of who has read your policies and procedures, which version has been read, and when your documents need to be reviewed. iAM lets you track versions of important documents like policies, procedures, risk assessments, and method statements; these documents can then be sent to colleagues who can sign to say that they've read and understood the contents. You'll also be able to see how long it's taken them to read the document so that you can check that it was done with due care and attention. Set a review date for your documents to be reminded at the appropriate time to re-evaluate the content of the document.
Use our bulletins feature to send out safety announcements and messages to your staff. Select whether you want to send the bulletin to a handful of individuals, to pre-defined groups within your users, or to everyone within your organisation with an iAM account. Just like with documents, you can track who has and hasn't read your messages.
Despite everyone's best intentions and efforts, the chances are that some kind of incident will still happen on your premises, whether that's an accident, near miss, or other kind of incident. Either way, you will need to be prepared. Our incident book meets with the HSE requirements for recording information in the event of an accident. We've kept the data which is recorded confidential too – only account owners are able to see the details of the incidents which are recorded to keep it on a 'need to know' basis. You can download anonymised data for analysis so that you're able to identify any accident hotspots or common themes and patterns.
You can also perform your compliance audits, checklists and surveys online with iAM. We've made the process easy for you and your colleagues. Simply find a relevant form from our library, send out invitations to as many or as few people as you'd like and then review their responses. You won't even have to chase them up to get them completed – we've handled that part too, we'll send out gentle reminder emails for anything they've been asked to respond to. If you'd like any of the forms tailored to suit your organisation or if there's a form that you'd like to see in our library get in touch with us at forms@iamcompliant.com to discuss your requirements.
Keeping your staff informed about various common workplace hazards is a key part to maintaining a safe working environment. We've treated it with the attention it deserves, so it's not just some dry, faux-PowerPoint bolt on. Our training library features a growing selection of IOSH approved and CPD certified courses that your staff will actually want to take. Your level of access to the library of courses depends on your subscription level, if you're on the free 'espresso' plan you'll be able to access the Fire Safety Awareness to give you a taste, the next level of access will unlock a suite of five health and safety courses. The highest level of subscription will unlock the complete library, featuring our full Health and Safety collection, Mental Health collection, and Information and Cyber Security collection, you will also get access to all of our upcoming courses, such as the Safeguarding collection.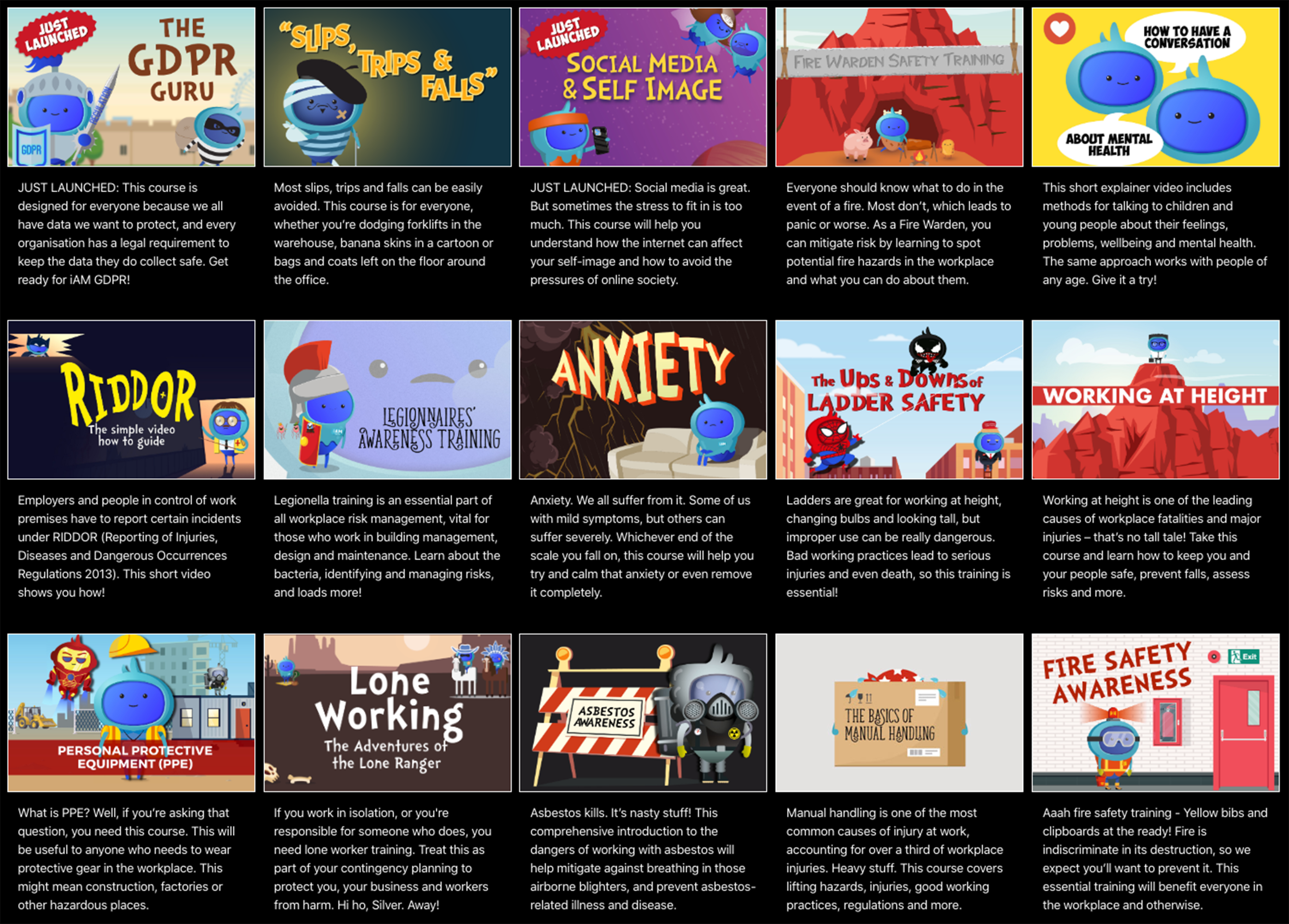 We've only scratched the surface here of what iAM Compliant can do to revolutionise the way that you look after your premises and compliance management. In each area of the app you will find a guidance video (look for the question mark in the top right of the menu bar) which will take you through each of the features of iAM Compliant, in step-by-step detail. If you'd like a demonstration, or if you're interested in upgrading your subscription, drop us a line at support@iamcompliant.com and we'd be happy to help.
Not got an account yet? Open your free account today and experience the benefits for yourself.